---
If you are anything like me, you LOVE and even crave breakfast foods all times of day. How can you not, there's a combination of sweet AND savoury options, tons of healthy options and well they are just down right delicious. Maybe you are looking for a new way to combine your favourite foods and keep it Keto or even just healthy. Here are some AWESOME breakfast ideas from @MensHealthMagizine that are both without compromising flavour.
Taco Breakfast Skillet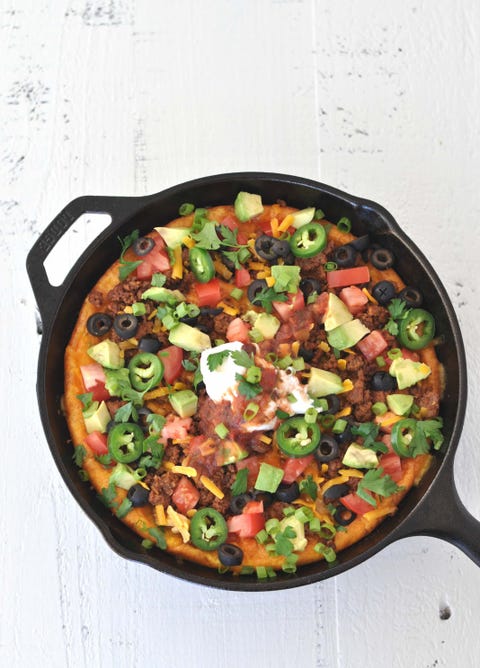 Loaded with protein-packed ground beef, sharp cheddar, vegetables, and everyone's favorite taco add-ons (salsa and sour cream, anyone?), this skillet from Peace, Love, and Low Carb is like eating nachos for breakfast — minus the chips. The best part: It can be meal prepped ahead of time for a week's worth of breakfasts. (Just leave the toppings off and add them after you've heated up a serving in the morning.) Who says tacos only belong on Tuesdays?
---
Sausage Breakfast Sandwich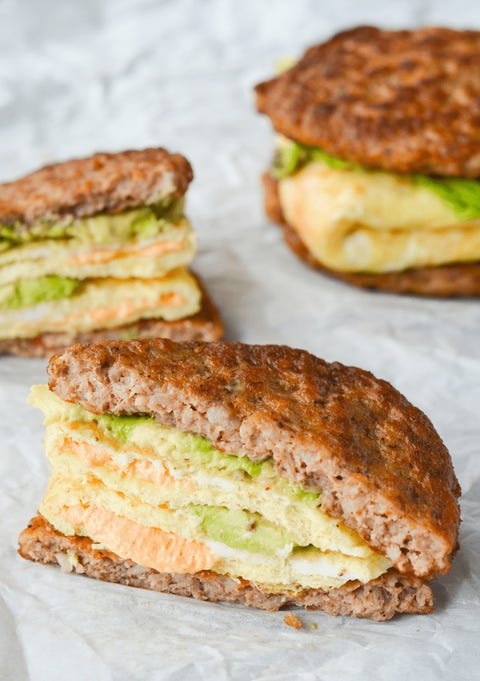 Instead of a complicated keto bread recipe, this breakfast sandwich from Hey Keto Mamagets creative and simple by using spicy pork sausage patties in place of an English muffin or bagel. An egg plus a sriracha and cheese mixture are sandwiched in between, along with any veggies of choice (a slice of tomato and spinach would fit right in). To lighten it up, swap in turkey sausage patties and use just egg whites instead of the whole egg. 
---
"Noatmeal"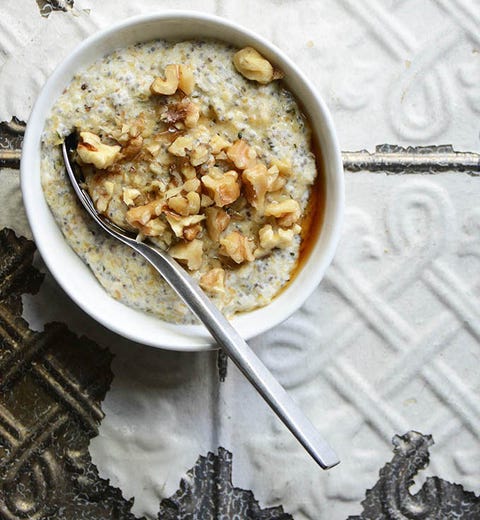 This is one of the speediest keto breakfast options around, especially if you mix the dry ingredients together ahead of time (Healthy Sweet Eats' recipe is made up of hemp hearts, almond flour, shredded coconut, flaxseed meal, and chia seeds). It can be made on the stovetop or in a microwave, and from there, the topping options are endless.
---
Pulled Pork Hash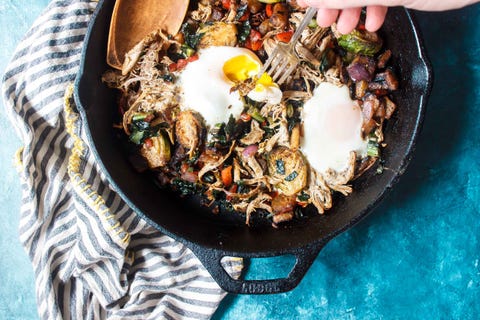 Put leftover pulled pork to good use with this hash creation from Cast Iron Keto — after all, something about the combination of pulled pork and runny egg yolks just feels so right. Brussels sprouts, lacinato kale, red onion, and turnip give this recipe a boost of veggies for added fiber and nutrients. 
---
Cinnamon Roll Knots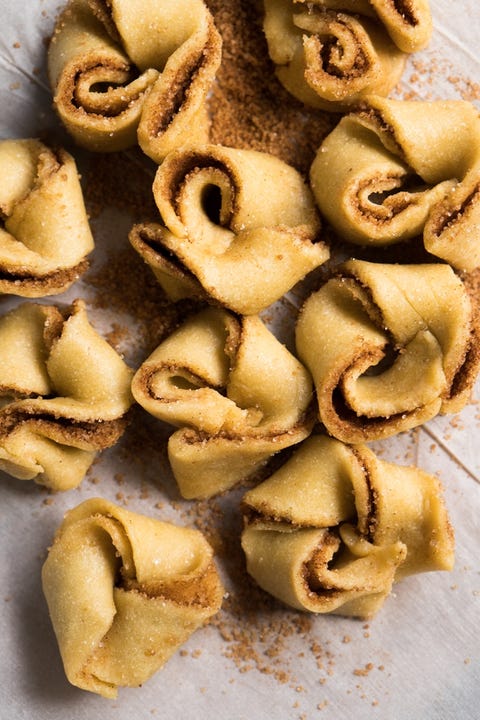 Cinnabon's got nothing on these keto-friendly treats from Gnom-Gnom. With only two grams of net carbs and 102 calories each, they taste more indulgent than they really are. Crafting the dough (made with almond flour and coconut flour) is a relatively involved process, but you can whip it up and keep it in the fridge for up to five days before you're ready to make (and eat) the cinnamon roll knots. 
---
Sausage and Egg Breakfast Bowl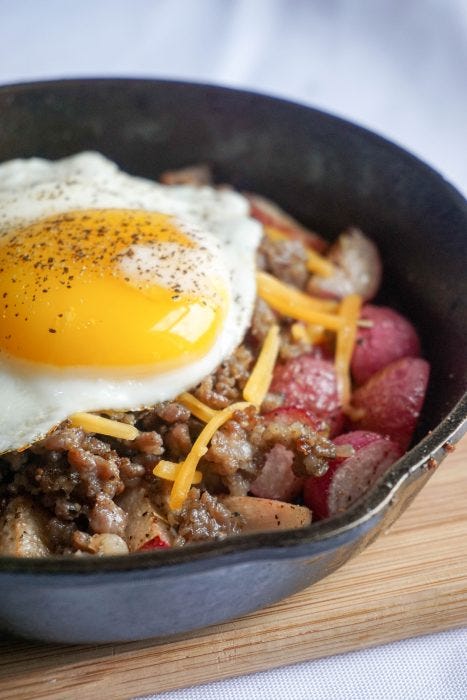 Minus the salt and pepper, there are only four ingredients in this simple breakfast bowl from Keto Connect. It starts with radishes as a satisfying stand-in for breakfast potatoes, and sausage, cheddar cheese, and eggs are all layered on top. Since the egg cooks separately, you can fry it up exactly the way you like it.
---
Peanut Butter Keto Smoothie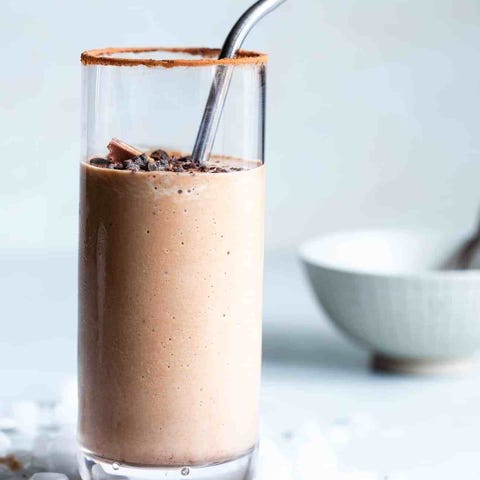 FOOD FAITH FITNESS
Typically smoothies are out of the question for keto dieters. However, this one from Food Faith Fitnessgets its sweetness from monkfruit instead of regular fruit. Plus it packs in plenty of fat with peanut butter and avocado.
---
 Corned Beef and Radish Hash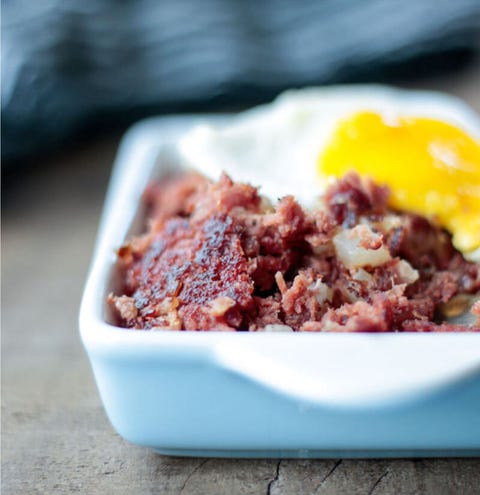 This recipe from I Breathe I'm Hungry proves that corned beef isn't just a St. Patrick's Day standby. You can use leftover corned beef or canned corned beef, but either way, you'll end up with a crispy, unique breakfast. Pair it with eggs in the morning, and save the leftovers for lunch or dinner.
---
No-Egg Breakfast Bake with Sausage and Peppers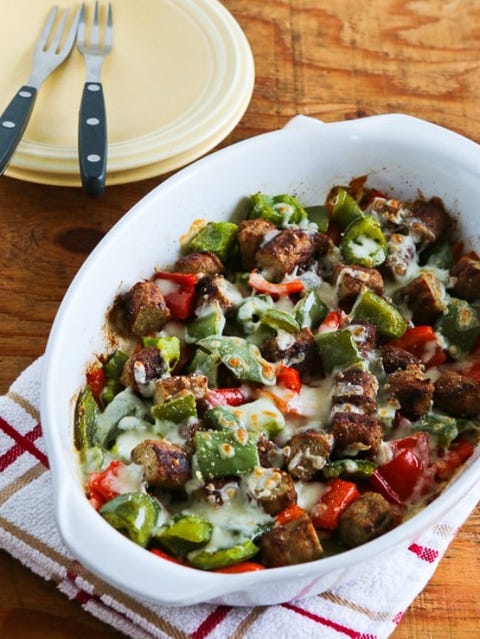 Let's face it: Eggs make a lot of appearances in keto-friendly recipes. And, hey, eggs are great! But every once in a while, you need a break. Enter this eggless breakfast bake from Kalyn's Kitchen. Red and green peppers give the recipe a colorful touch, and turkey breakfast sausage delivers a solid dose of protein to start the day.
---
Keto Breakfast Burrito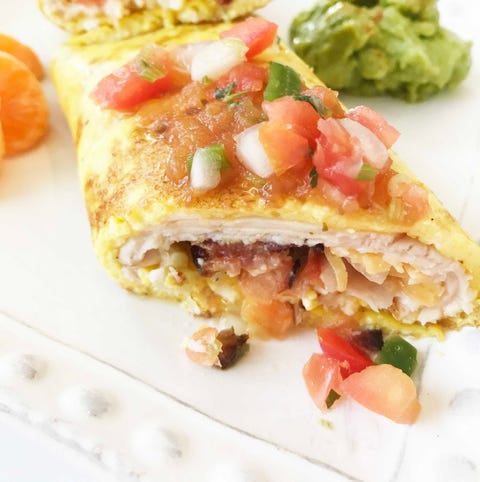 THE SKINNY FORK
If you miss traditional breakfast burritos, give this high-fat keto version a try. The Skinny Fork uses egg as the wrap, which is then stuffed with bacon, turkey, and cheese. Add avocado to up the fat intake.
There are even more option on the Men's Health website: https://www.menshealth.com/nutrition/g22552078/best-keto-breakfast-ideas/
I don't Dow about you but I'm ready to try them all!